(H)20 Things to do in a wet and stormy Las Vegas
Even in Summer, it sometimes does rain in Las Vegas (Sshh – that can be our little secret!). And we get the sort of rain and storm that means the pools are off-limits, the water parks close and you really don't want to be walking slowly along the Strip (although it is one of the few times where you can do so without a costumed beggar accosting you!)
However, even when it is raining there are so many things to do in our favourite city that after reading this list your problem will be picking what to do first! We've avoided listing things that you can easily do at home – so no shopping (sorry!) and no trips to the cinema are on the list.
Also, we'd caution you if you have a rental car in Las Vegas and plan on driving to get to some of these suggestions. Whilst you may come from a place where you are used to driving in the wet with standing surface water, many of the drivers in Las Vegas are not used to it and the traffic gets a little (ahem) crazy when the roads are wet, so be careful driving and give everyone a LOT of extra space.
So, without any further ado, and in no particular order, here are our first twenty suggestions for things you can do on a wet and stormy day in Las Vegas!

Circus Circus Adventuredome
OK Stop. Don't just skip past this. It's not just for kids, and we know that Circus Circus has a stigma (until the eventual big implosion and reinvention as Le Cirque Le Cirque).
This is actually one of the biggest hidden attractions on the Las Vegas Strip. The Adventuredome has an impressive mix of classic rollercoasters, spinning rides, tower rides, tilting rides, swinging rides and pretty much every other motion you can think of. And they are all crammed into a small dome at the back of the hotel – which actually adds to the coolness factor as all the rides are pretty much on top of each other. Better still, they offer an "All Day Ride Pass" (currently $29.95) which lets gives you the best excuse to release your inner kid and relive your youth.
Oh, and did we mention laser tag? With Batman?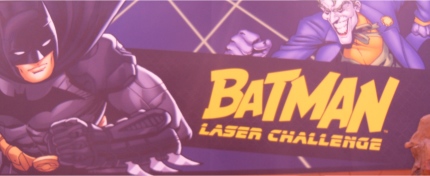 <!–-nextpage–->

The Mob Museum
The Mob Museum, or officially the National Museum of Organized Crime and Law Enforcement, is a museum located in Downtown Las Vegas that features interactive exhibits in an historic courthouse building that tell stories of the Mob's rise & law enforcement's response. If you had any interest in The Sopranos or the movie Casino, then you may find yourself staying here for 3+ hours as there is so much to see and do. Which may make it one of the best bargains in Las Vegas given that the entrance costs just $19.95.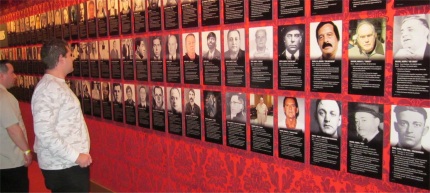 <!–-nextpage–->

Shark Reef at Mandalay Bay
The Shark Reef Aquarium at Mandalay Bay is not your typical aquarium. It has fourteen different exhibits devoted to dangerous (and breathtaking) predators. The largest exhibit is the 1.3 million gallon shipwreck where visitors experience an almost 360-degree view, teeming with sharks and fish, whilst waking through a see-through tunnel.
It also features the Touch Pool where you can touch an ever-changing collection of animals including sharks, rays or horseshoe crabs. More than 2,000 animals are displayed at Shark Reef Aquarium, over 100 different species and featuring 15 species of sharks.
It isn't the cheapest attraction in Las Vegas, and won't keep you occupied for more than an hour or so, but it is one of the few places in Las Vegas that actually encourages you to touch…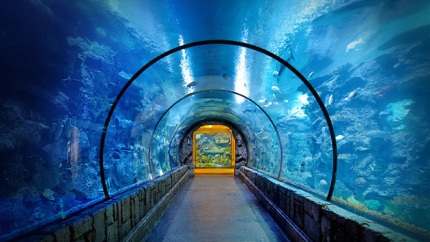 Bodies and Titanic at Luxor
We're listing these together as they are literally side-by-side in the Luxor (indeed, if you have had a few drinks you may think it is one attraction offering to show you "Titanic Bodies", which sounds so wrong!).
Bodies is a show that lets you see real bodies, preserved and sliced open to show you interesting things about how our bodies work. Versions of the exhibition have toured the world, so if you've never seen it before, then perhaps a wet day in Las Vegas is finally the right time to do so!
The Titanic exhibition features over 250 authentic artifacts recovered from the wreck site of Titanic, as well as extensive recreations of some of the most famous rooms from the Ship. If you are quick, you could get there right now and be the first person ever to play that Celine song there. Win!
You should definitely check for offers for these exhibitions as there has been a long-running "3 for $57" offer that allows you to pick three attractions from these two shows, the Shark Reef at Mandalay Bay and the CSI Experience at MGM (amongst others, but these are the wet weather winners).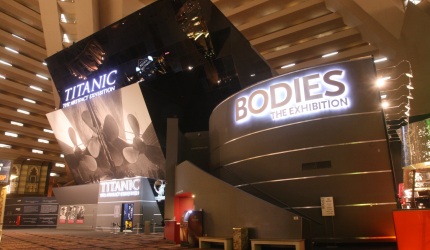 <!–-nextpage–->


German Beer Tasting Day
If you have never traveled to the original in Munich, then you should visit Hofbräuhaus in Las Vegas – the only authentic German beer hall in Las Vegas. It has been built as an exact replica of the legendary 400-year old Hofbräuhaus in Germany. From the traditional Beer Hall bursting with nightly live entertainment, to the tree-lined Beer Garden, everything has a bold touch of Bavaria. Many of the VN team have actually visited many German beer halls and can confirm the atmosphere is authentic, and the beers are authentic too (our favorite is the Hefe Weizen).
Now in the interests of full disclosure, we have to say that we all have a slight preference for the Belgian beer experience, but since there is not a 400-Belgian-beer experience in Vegas, the Hofbrauhaus (or "Meeting Room 3" as we know it) will remain on our high rotation list for visits. Oh, and sign up for their emails on their site as you'll get a free beer.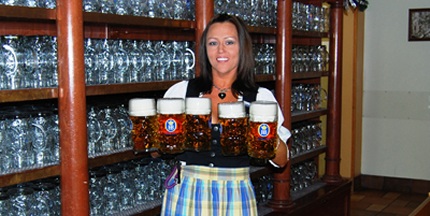 Cocktail Day
We love cocktail bars. The tender ministrations of a great mixologist, trying a combination of old favourites and fresh ideas, ahhh – bliss!
So a wet weather day is a chance to make the cocktails themselves the destination, rather than just a tertiary part of an evening out.
We'll save the big list of our favorite cocktail bars for a separate article on the site, but for just now we'd suggest you head to either the Chandelier Bar at the Cosmopolitan, or the Downtown cocktail room. Soak up the atmosphere. People watch. Try a known quantity to calibrate your taste buds (we always go for a mojito). Then go wild – trust the bartender, try some of their recommendations. But go slowly. Enjoy the vibe, the room, the ambience.
Oh, and be careful when it is time to try to stand up!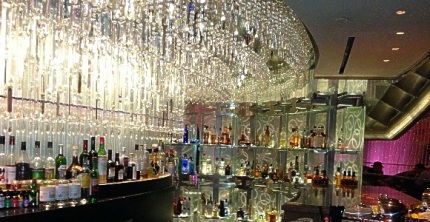 <!–-nextpage–->


Poker or Slot Tournament
Up and down the Strip (and moreso Downtown) hotels have daily poker tournaments and slot tournaments with low buy-ins and they are a great way to spend a few hours (hopefully!).
CardPlayer has a great list of all the daily poker tournaments right here and you can see Vegas.com's list of slot tournaments right here.
Whilst a tournament might not make you rich, you can guarantee that it will be an exciting experience and after all, everyone wants to leave Las Vegas with a "winning story"…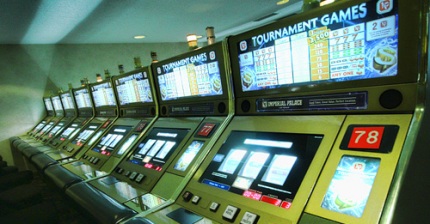 <!–-nextpage–->

CSI Experience at MGM
This hands-on exhibit lets you play at solving crimes like in the many CSI programmes. You can solve three murders using 15 lab stations and you are assisted by videos of forensic scientists who help you. It takes between 60 and 90 minutes, and currently costs around $28 – so is most cost-effective to do it as part of the "3 for $57" package (see above).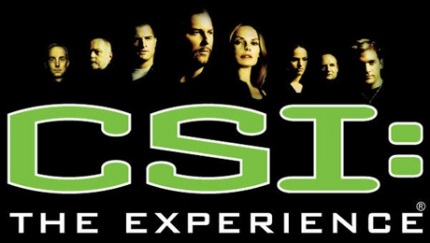 Bellagio Museum of Fine Art
The Bellagio has a significant amount of world-class art throughout the public areas of the resort. However, it also has a special exhibition space that features special collections on loan from collections around the world. The collections change several times a year, but in the past we've seen some wonderful landscapes, an exhibition featuring Lichtenstein and Warhol, Ansel Adams photos of America and classic Faberge objet d'art loaned from the Kremlin.
In several cases we have not found the subject fascinating from the external literature and posters, but once inside the art has, without fail, managed to capture our attention and we've managed to lose hours – an amazing feat given the fact that the gallery is not actually that large.


Bellagio Conservatory
Yes, OK, you've probably wandered past it, but this is your chance to go and appreciate the hundreds of lovely small touches that the designers hide in each of the seasonal displays that they set up every year.
Did you also know that the gardeners "Mr and Mrs Green Thumb" are in the conservatory daily between 10:30am-11:30am and are happy to answer your questions about the gardens?
Or that there are live musical performances every day between 5pm and 6pm?
So you see, it is definitely worth a return visit and a leisurely stroll around, taking in all the hard work.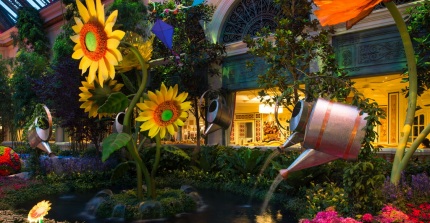 Indoor Skydiving
The first indoor skydiving facility in America was built in Las Vegas in 1982. The name of the company has changed from Flyaway to Vegas Indoor Skydiving, but the experience is the same. They have what is basically a big vertical wind tunnel with a trampoline for the floor and padded walls to stop you from hurting yourself. The idea is nice and simple. Jump high, hold the right balanced position and let the wind push you higher. In practice it is slightly harder, and a lot more hysterical for onlookers!
It costs around $75 for an hour which covers a training class, suiting up in all the flight gear and then jumping in the wind tunnel. More details can be found at their website right here.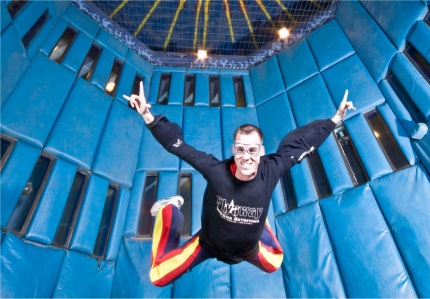 Spa Day!
Your body is a temple. And a trip to Las Vegas tends to cause that temple to be defiled and pillaged and battered and broken as the excesses in Vegas lay siege to it.
So a day at a spa can be a great way of recharging and getting ready to face the rest of your Vegas stay.
Oh, and the photo below from the Canyon Ranch spa at the Venetian does not show a pool next to a row of toilets. Definitely not.

Pinball Hall Of Fame
The Pinball Hall of Fame is a 10,000 square foot museum hosting over 150 classic pinball machines owned by the members of the Las Vegas Pinball Collectors Club. It is the world's largest pinball collection, open to the public and is run by a non-profit group. The games (from the 1950s to 1990s) are all in working condition and you can play them for 25-50 cents. It is a short trip down Paradise from the Strip and it will completely infect you with "Just one more go"-itis.

Erotic Heritage Museum
***UPDATE*** Unfortunately this closed in February 2014 and was due to re-open in June 2014. We have not yet revisited to (cough) confirm the focus remains the same.
This fascinating museum was created as a partnership between a preacher and a pornographer (Harry Mohney has links to Hustler and interests in over 75 strip clubs across the US, amongst other interests). Its stated mission is to preserve erotic artifacts, fine art and film and it has over 24,000 square feet of exhibits (some permanent, some rotating features) all designed to preserve the wonders of the erotic imagination as depicted through the artistic expression of acts of sex and love. (Yes, we borrowed that from their website, but it is such a great sentence!)
Oh, and the sign you can see in the photo below says "Harry Mohney's Erotic Heritage Museum", not "Hairy Monkey's Erotic Heritage Museum" as we first thought when we saw it. And now we have shared that, we can guarantee that is what you will always think when you see it…

Ethel M Chocolate Factory Tour
The Ethel M factory, located in Henderson offers a self-guided Factory Tour. On the tour you get to taste the chocolates, see into the factory and find out about making chocolates. On Monday through Thursday you also stand a good chance of seeing their machinery running and actually making the chocolates. Just be on your best behaviour. You do remember Willy Wonka's factory, don't you?
Next to the factory is the "world famous" Ethel M Botanical Cactus Garden. (They claim it is world famous, but when we asked friends in New York, London and Brussels they all thought we were on something). Anyway, one thing we do agree with is that it is one of Nevada's largest collections of cacti with over 300 species of plants.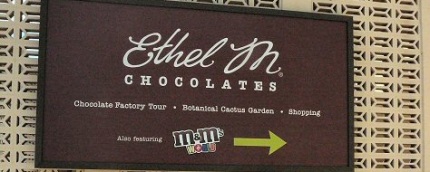 Bowling, Brooklyn-style
The trendiest part of the new $550M LINQ area, this 32-lane bowling venue also has amazing food (by the people behind Blue Ribbon), great craft beers and cocktails, a superb live music venue and is just generally an all-round great place to hang out.
Our recommendation is to head there at lunch-time, grab some fried chicken (just trust us on that one!) and then do some bowling with a few adult drinks.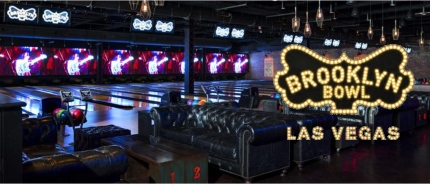 Go Trampoline Mad
Imagine a warehouse filled with super-bouncy trampolines. Where there are even trampolines angled at the walls, allowing you to take a running jump at a wall and bounce straight back at ridiculous speeds and angles. Now imagine playing dodge ball in that environment.
And they have laser tag in a big warehouse, and even a rock climbing wall. Grab your friends, drive carefully to FLIPnOUT and indulge your inner kid. You'll thank us for it. Well, apart from for the bruises as you mis-time your jumps.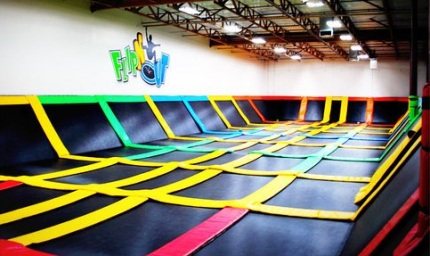 Catch an afternoon show
Seriously, there are some great shows in the afternoon in Vegas. You might not get an experience on par with Le Reve or Absinthe but many of the shows are definitely improvements over sitting in your hotel room channel-surfing!
Our recommendation is the Mac King Comedy Show at Harrah's. And our advice is to look around for free tickets. We've seen a variety of discounts available for this "$30" show – seeing it reduced to half price, buy one get one free, free with the purchase of a drink and also we've even seen free tickets given away at the Total Rewards booth in Harrah's (either for opening a TR slot card, or also just for smiling and asking politely!)
Mac's show has been running for ~15 years now, he is funny, the magic is not obvious, the (relatively small) crowd are usually good and he is not afraid to get the audience to "help" him with his tricks.

National Atomic Testing Museum
We have to thank Gray Cargill of the excellent VegasSolo blog for reminding us to finally go and visit this museum (and for her advice to give it enough time to truly appreciate the exhibits)
First of all let's be clear – they have added the "Area 51 – Myth or Reality" exhibits to try to sex up the museum. And no, they are not going to reveal a big secret about the Area 51 base full of aliens that is located under the MGM Grand. But, if that gets even one more person to walk through the main exhibits then it is worth it as this is a great, highly interactive museum covering a fascinating part of history. Plan at least a few hours here as there is a lot of media to watch/listen to and, as you'd expect from a museum affiliated with the Smithsonian, there is a lot to think about.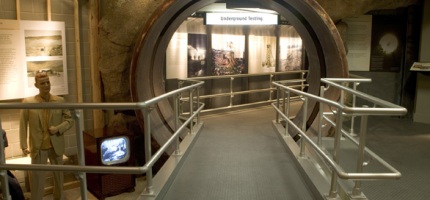 Take a Food Challenge
Let's face it. You are in Vegas, so you are already eating way more than you are used to. You've crossed the "healthy eating" line. You've had a cheeky little jog past it with a sardonic smile on your face. Then, faced with Bacchanal or Wicked Spoon, you slowed your pace and proceeded onwards with a steady pace and a steely glint in your eye. Now, if you look backwards you can't even see that line shimmering in the distance.
Given that, you really have nothing to lose if you try one of the great Food Challenges in Las Vegas. Our friends at EatFeats (who are we kidding, those guys scare us!) have a great list of current Vegas Food Challenges that you can see right here. That said, there is only one real archetypal "Las Vegas" Food Challenge. Only in Las Vegas can there be a restaurant called the Heart Attack Grill whose official spokesman, John Alleman, died after experiencing a heart attack!
For a good background piece on their Quadruple Bypass burger, click here, and remember to send us a photo after you eat all 8,000 calories. We just hope when the sun comes back out your swimming costume still fits!