Last Minute LDW Hotel Bargains
Well, looks like Labor Day Weekend (LDW) is not going to be a sold-out affair in Vegas as the hotel prices are dropping even more in the past few days. We've done a quick run-through of the hotels, and rather than update our full article, this is a quick summary of two prices that stand out for us. The prices cover a THREE night stay – from Friday night through to Monday morning. They don't include taxes or Evil Resort Fees. Grab them whilst you can!
---
MOST ATTRACTIVE PRICE #1
CAESARS PALACE, $396
We rated the Caesars' price as the best deal when it was over $100 more than this, and in the last few days it has dropped even further. It is not every day that the Caesars price for any given stay comes in cheaper than the Mirage and the MGM Grand. For that reason, because the price just seems too good to be true, and because the pool complex is one of the better centre-Strip options, we're picking this as the first of our choices. Going against it was the fact that the room is in the Roman Tower, which none of us love – but hey, it's all about location and pools on Labor Day Weekend, and this is a winner in both. Book now before they fix the price!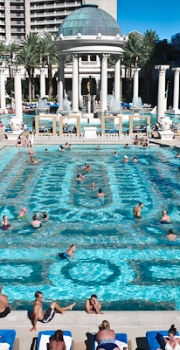 ---
MOST ATTRACTIVE PRICE #2
MGM GRAND, $590
So because Labor Day Weekend is traditionally home to some massive pool parties, and an excuse to grab some relaxation in the sun, the pool complex at MGM Grand makes it a great choice, especially when it comes to also hosting Wet Republic. At $590 (down $5 from when we checked at the weekend) for a long 3-day holiday weekend, it is hard to argue with this price.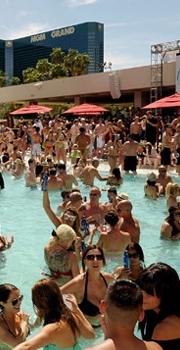 ---