NYE 2015 Hotel Pricing
Welcome to our 2015 NYE live hotel pricing guide. We'll be updating this article regularly between now (the end of Summer!) and the end of 2014. From our past experience, however, many of these prices are destined to increase or sell out completely.
As with the other price guides we publish, the rates in the table are rates direct from the hotel itself (no consolidators or travel websites, we actually call the hotel itself and also check their website). The rates do NOT include Evil Resort Fees or the various taxes that are levied. As a general rule of thumb, assume that after Evil Resort Fees and taxes you will pay approximately 20-30% more than the figures in the table below. (Perversely, 30% more on the cheaper rooms, 20% more on the higher end rooms as the ERF makes up a smaller percentage of the overall cost!)
All of the prices are based on costing the same trip – arriving 29th December for 4 nights (to ensure fairness, we made it a 4 night trip as some hotels had the 29/30/31 as mandatory stays, others had the 30/31, whilst others had 31/1 linked). The room was for 2 adults, where possible we asked for a King bed room (the rooms with 2 queens tend to go for more at New Years as the hotels know groups try to cram as many people into the room as possible!). And we always list the lowest cost room we are offered (either by calling the reservations number or by navigating the hotels website – some of which have a truly awful booking experience!)
Before we get on to the pricing table itself, we'd like to highlight a few prices (these highlights usually change over time as the pricing itself changes!)
---
MOST ATTRACTIVE PRICE
PARIS, $786
For a New Year's celebration trip, the one feature that trumps most others is being centre-Strip. Given the hotels often restrict access and the parking is a nightmare, then it is very handy to be located in a hotel in the centre of everything. The Paris hotel, whilst not having our overall favorite rooms, is in a great location with the Bellagio fountains opposite and it is worth the extra $40 over Harrah's to make it our "most attractive price" for NYE 2015.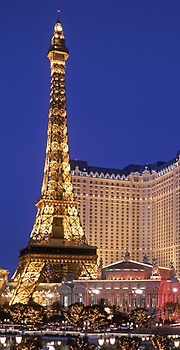 ---
MOST SURPRISING PRICE
MONTE CARLO, $613
Given it is Winter, and you can't really make use of what we believe it the strongest feature of the Monte Carlo (the pool complex), we were still surprised to see the Monte Carlo offer rooms for such a low price. It's neighbour, the NYNY, is $250 more and the Monte Carlo is slightly more central on the Strip (and has a great range of funky eating and drinking destinations). If the weather was hot enough to use the pool, this would be our "Most Attractive Price" in a heartbeat. As it is, it's still a very strong option worth considering.
The other surprise we had was that the El Cortez was the first hotel on our list of 47 to sell out for the dates around NYE!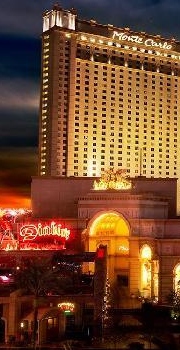 ---
MOST WTF PRICE
The LINQ Hotel, $1062
Yep, that is "The LINQ Hotel" as in "The Quad" and ultimately as in "The Imperial Palace"! For $1062! More than The Delano, The SLS, Paris… Seriously! OK, so it has a great location which would be close-to-perfect for NYE, but the location is not better than any of the other surrounding hotels which are $300 less. Look at the list of hotels below that it is trying to charge more than! Do yourself a favor, pick a different nearby hotel and put the money you save on either red or black. If you lose, then you've still ended up with what is probably a nicer hotel room. If you win, well the $600 in your pocket will make for a good night with a few stories to tell.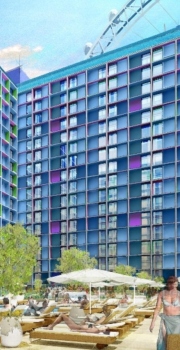 ---
NYE 2015 Hotel Pricing
Hotel
Price
Notes
Golden Gate
$386
One Queen
Plaza
$416
Deluxe Room
Riviera
$436
Classic room with 50% off for pre-paying.
Downtown Grand
$456
King Bed Deluxe Room
Four Queens
$476
Standard Deluxe Room. NO RESORT FEES
Fremont Hotel
$485
Deluxe King
Circus Circus
$496
Manor Motor Lodge King Room
Or $516 for "newly refreshed" Skyrise Tower
The D
$546
Deluxe One King
Excalibur
$597
Tower Queen Room
Tropicana
$604
Club Tower w. 1 King
NOTE – Advanced Purchase rate with full payment saving 20%
Golden Nugget
$606
Carson Tower Deluxe
NOTE – No resort fees at this hotel!
Monte Carlo
$613
Strip View Deluxe Room
Rio
$616
Classic King Room
Hard Rock Hotel
$636
Casino Tower King
Luxor
$646
Pyramid Deluxe King Room
Casino Royale
$660
King Room and NO resort fee.
Mandalay Bay
$729
Deluxe King Room
Harrah's
$748
Classic Room
Bally's
$786
Indigo Tower Classic 1 King
Paris
$786
Indigo Tower Classic 1 King.
Palms
$816
Superior Room
MGM Grand
$835
West Wing King Room
Flamingo
$836
FAB Deluxe Room
NYNY
$861
Park Avenue Room
TI
$890
Vegas Season Deluxe 1 King Room
SLS
$901
World Superior King
Signature at MGM Grand
$950
Signature Deluxe Suite
Artisan
$972
1 Bed Classic King
The Delano
$1005
Delano King Suites
Trump
$1016
Superior King Room
Mirage
$1032
Resort Queen Room
Planet Hollywood
$1046
Hollywood Hip Room (King)
Vdara
$1056
Deluxe Suite
The LINQ Hotel
$1062
Deluxe King
Aria
$1225
Deluxe King Room
Venetian
$1276
Luxury King Suite
Palazzo
$1276
Luxury King Suite
Four Seasons
$1416
Superior Room
Caesars Palace
$1516
Roman Tower
The Cromwell
$1546
Deluxe King
Cosmopolitan
$1550
City Room ($1790 for Terrace Suite)
Bellagio
$1646
Resort King Room
Mandarin Oriental
$1760
Standard Room – low floor
Nobu at Caesars
$1776
Nobu King Deluxe
Wynn
$1936
Deluxe Resort King
Encore
$1956
Resort Suite King
El Cortez
FULLY BOOKED
FULLY BOOKED
NOTE
: Prices above do not include taxes, Evil Resort Fees, and are the cheapest rates published by the hotel themselves for the dates. Unless noted, the prices above do NOT give entry to any NYE party that the hotel may be hosting.
UPDATES
LAST UPDATE: Prices confirmed with hotels on August 17/18/19, 2014.
Aug-19 – Added eight Downtown hotels and the Artisan to the list